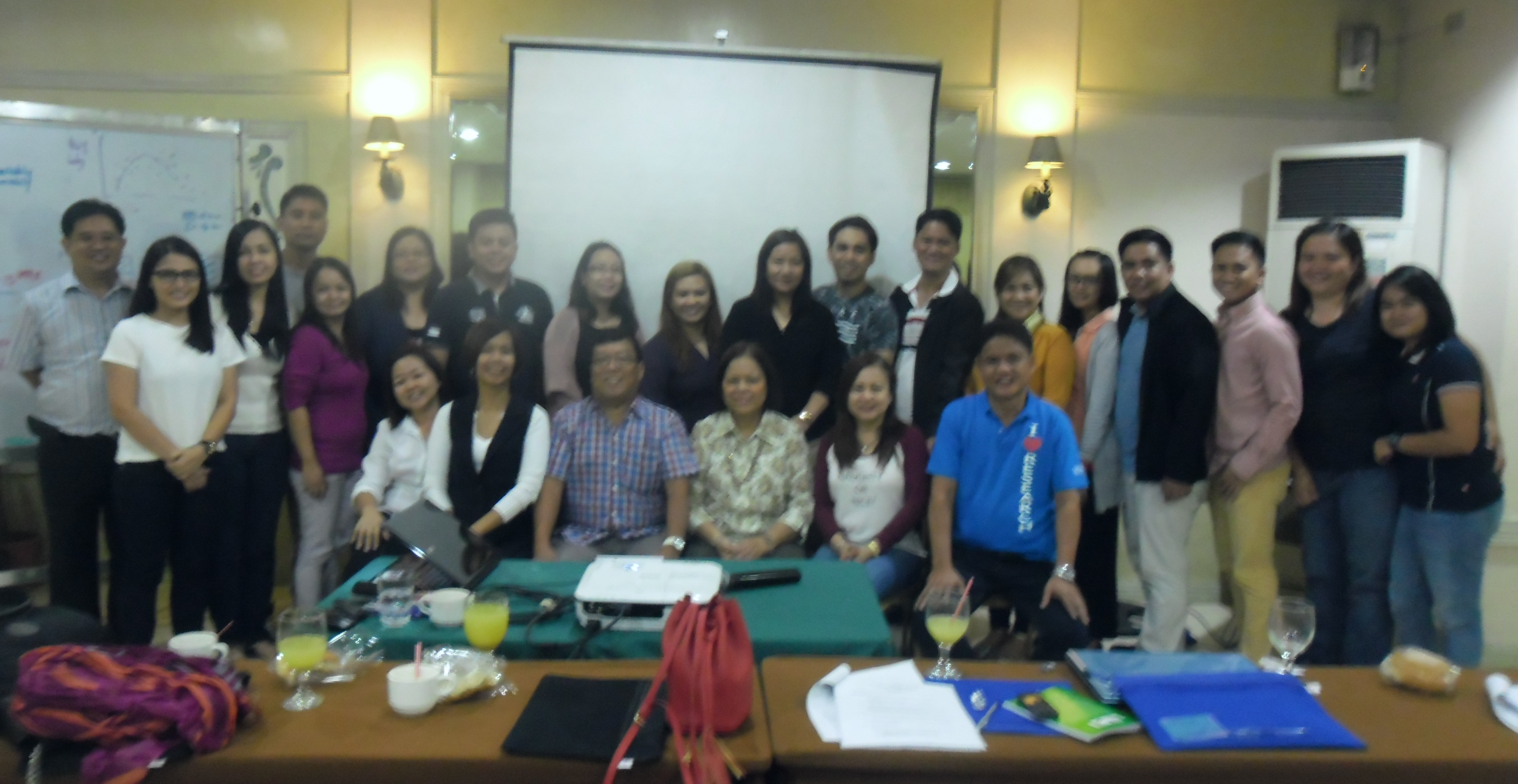 Training on Data Analysis with Dr. Ophelia M. Mendoza, speaker, Dr. Unity H. Cortez, chairman CBC, Dr. Leo B. Solis, vice-chairman R1HRDC, Engr. Ismael Gurtiza,vice chairman CBC, Ms. Ma. Velen Joven member CBC, Ms. Ana Gay Ranga, secretariat and all the participants
To capacitate more the researchers in the region in coming up with a meaningful and quality research papers, the Capability Building Committee (CBC) of the Region 1 Health Research and Development Consortium (R1HRDC) conducted the three-day Training on Data Analysis last July 12-14, 2016 at the Veniz Hotel, Baguio City. Said training was a sequel to the Basic Research Methods Training held last October 2015.
The main objectives of the training for the participants were to (1) understand the basic concepts and principles in the application of statistical tools for data analysis and (2) identify the most appropriate statistical tools needed for data analysis and meet the objectives of the research proposals they are developing.
There were seventeen (17) participants who attended the said training most of whom were medical practitioners and members of research institutions. Participants were from Lyceum Northwestern University (LNU), Virgen Milagrosa University Foundation (VMUF), Dagupan Doctors Villaflor Memorial Hospital (DDVMH), Ilocos Training and Regional Medical Center (ITRMC), Don Mariano Marcos Memorial State University (DMMMSU), University of Northern Philippines (UNP) and Mariano Marcos Memorial Hospital and Medical Center.
Dr. Ophelia M. Mendoza a former professor from the University of the Philippines (UP) College of Epidemiology and Biostatistics was the the training's learning provider. This was officially opened by Engr. Ismael Gurtiza, vice chairman of the CBC, followed by an inspiring message from Dr. Leo B. Solis, vice chairman of the R1HRDC.
As a way of introduction and levelling off, participants introduced themselves and answered random questions. From here, Dr. Mendoza presented her objectives and course syllabus. Afterwhich, she articulated on the series of lectures that included the following :
Day 1
Factors to be Considered in Data Analysis, Health Indicators, Data Presentation, Constructing Statistical Table
Day 2
Measures of Central Tendency, Dispersion and Location, Introduction to Statistical Inference, Estimating Means and Proportions and Investigating Relationships Between Variables
Day 3
Looking at Associations Between Variables, Regression and Correlation, Non-parametic Statistical Tests, Summary of Data Analysis Techniques
After the informative lectures and exercises given by Dr.Mendoza, a presentation of research outputs from pre-identified volunteers among the participants was done at the end of the training.