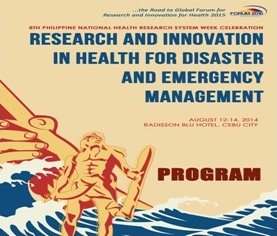 As a customary activity of the Philippine National Health Research System (PNHRS) once again, the health research community celebrates the 8th PNHRS Week Celebration with the theme "Research and Innovation in Health for Disaster and Emergency Health Management" held last August 12-14, 2014 at the Radisson Blu-Hotel, Cebu City, hosted by the Central Visayas Consortium for Health Research and Development (Region 7).
In line with this event, the participation of the Consortium is crucial in the following activities:  the Inter-regional Oral Paper Presentation and Poster Exhibit Contest (Professional & Student Category), Consortium Poster Presentation- the poster should highlight the RHRDC's activities aligned with theme of the celebration, and Cluster Presentation.
Dr. Maria Lourdes K.  Otayza, Chairman of   Region 1 Health Research and Development Consortium (R1HRDC), sent her members to the said celebration headed by Dr. Leo B. Solis, R1HRDC Vice-Chair; Dr. Jose B. Orosa III, Chairman, Research and Development Committee; Dr. Unity H. Cortez, Chairman, Capability Building Committee; Dr. Hilarion Maramba, Chairman, Ethics and Review Committee; Dr. Mercita Queddeng, Chairman-Research and Utilization Committee; and Ms. Ana Gay Ranga, R1HRDC Secretariat. Other participants from Northern Luzon Cluster are from Department of Science and Technology headed by the OIC Regional Director Engr. Armando Ganal and other researchers from Don Mariano Marcos Memorial State University.
Finished paper of R1HRDC entitled "Health Seeking Behavior and Health Care Utilization among the Indigenous People of Ilocos Sur" by Dr. Mercita Queddeng and "Devolution as Framework in the Health Service Delivery in Region I" by Dr. Paulito Nisperos, represent the region for Poster Exhibit Contest.
This year's celebration focuses on the role of health research in disaster and emergency management. As many factors contribute to health outcomes in emergencies and disasters, all plenary and parallel sessions revolve around the key areas, namely: science for disaster preparedness and actions, use of information and communication technology and tools and policies, coordinating mechanisms for service delivery, and role of social media.
8th Philippine National Health Research System Week Celebration at Radisson Blu Hotel, Cebu City last August 12-14, 2014 with the theme "Research and Innovation in Health for Disaster and Emergency Management"