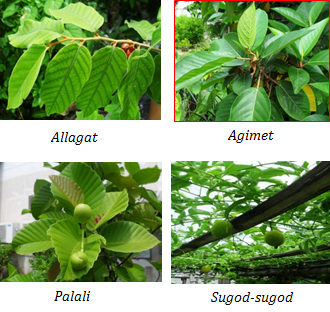 In a phytochemical screening of indigenous plants of Ilocos Norte made by researchers of the Mariano Marcos State University (MMSU), four are found to be potential sources of drug for acute and chronicanti-inflammatory diseases.  These plants are the Uvaria rufa (allagat),Ficus minahassae (agimet), Dilenia philippinensis (palali) and Momordica cochinchinensis (sugod-sugod).  The presence of flavonoids, saponins, terpenoids and steroids are observed during the tests of the extracts of 116 different plant parts using ethanol and water as extractants.
Further test for toxicity and anti-inflammatory of said plants proved that one species has high cytotoxicity (94.99%) at high concentration (1 mg/ml), so it must be used at low concentration (0.03125 mg/ml). Another species on the other hand, is safer and less toxic (15.965% cytotoxicity) at low concentrations of 0.125 mg/ml. The same results are also observed for still another species, less toxic at low concentrations (0.03125 mg/ml and 0.0625 mg/ml). It is worthy to note that one of the 46 plant samples is safe to use even at high concentrations (0.5 mg/ml).
The search for potential sources of drugs is a part of the research project "Modulatory role of indigenous medicinal plants identified in Ilocos Norte in acute and chronic inflammatory diseases" which is implemented for three years.The first year implementation involved testing of pesticide residues and heavy metals contained in the plant samples. During the tests, it was found that these have no significant level of harmful heavy metals such as silver, lead and mercury and there were no pesticide residues particularly, carbamates and organophosphates. Aside from the toxicity and anti-inflammatory activity tests, moisture and ash contents of the plant samples were also analyzed.
Meanwhile, the administration of said research is under the auspices of the Tuklas Lunas Development Center (TLDC) for Luzon based at MMSU. The Center is one of the first three established in the country by the DOST-Philippine Council for Health Research and Development (PCHRD) tasked to unify researches on drug discovery and development program for tropical and other diseases using potential indigenous plant species in Luzon. It was awarded to MMSU on March 18, 2013 in recognition of its researches on natural products, biological activities and drug discovery.
With the implementation of the mentioned research, MMSU through the Center has now acquired relevant equipment such as High Performance Liquid Chromatography (HPLC), Cyclotec Sample Mill, Centrifuge machine, Autoclave, UV-Vis Spectrophotometer, Freeze dryer, pH meter, Evermed medical refrigerator, Microplate reader, top loading balance, Oven, Incubator, Binocular stereo dissecting microscope, Analytical balance, Digital colorimeter, Digital water bath and Soxhlet extraction apparatus.
Awarding ceremony at Sofitel Philippine Plaza Hotel, Pasay City on March 18, 2013