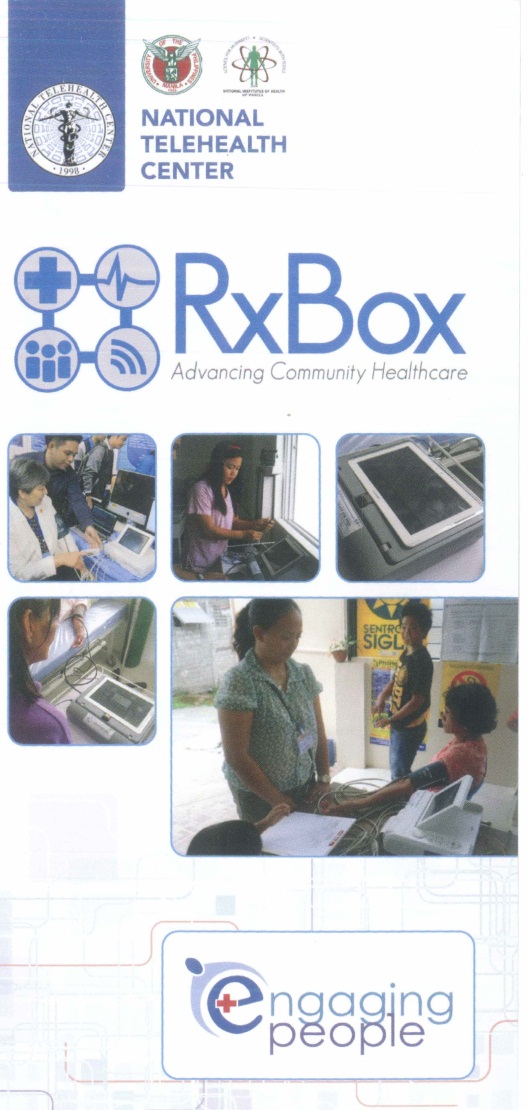 The RxBox program is designed to provide better access to life-saving health care service in isolated and disadvantaged communities nationwide. It is one among the Department of Science and Technology's (DOST) efforts for a "Smarter Philippines".
In 2007, RxBox played a very important role in the development of the National Telehealth Service Program (NTSP), currently one of the Department of Health's (DOH) efforts towards Universal Health Care.
The RxBox program consists of a biomedical device and builds capacities of frontline health workers on telemedicine, the use of electronic medical records and the RxBox telemedicine device.
The RxBox supports the country's race towards the Millennium Development Goals (MDGs) on improving maternal and neonatal health services. It supports also the campaign to control Non Communicable Diseases, major causes of death and diseases in the country.
WHAT RxBox Does?
Blood Pressure Monitor – measures the patient's blood pressure and detect heart and blood vessels problems, especially hypertension, a disease which can also worsen other chronic lifestyle disease conditions.
Pulse Oxymeter – assesses the level of oxygen in the patient's blood and can help detect lung and heart problems, the leading causes of death of Filipinos.
Electrocardiogram (ECG) – monitors the heart's movement to pump blood throughout the body. This is helpful for those with acute and chronic heart problems, including pregnant mothers with heart disease.
Fetal Heart Monitor – measures the baby's heart rate while in the womb. It can help detect the baby's difficulty at critical times of the pregnancy and delivery.
Maternal Tacometer – assesses the strength of contraction of the mother's uterus especially during delivery. It can detect problems that can lead to distress to both the mother and her baby.
Improves documentation of patient information using its CHITS-electronic medical record.
Through telemedicine, as part of the National Telehealth Service program, links the remote primary care health workers with clinical specialists in hospitals for better patient care.
Reduces unnecessary travels and hospitalizations of patients.
Improves the health referral system in their area through telemedicine CHITS-Community health Information and Tracking System.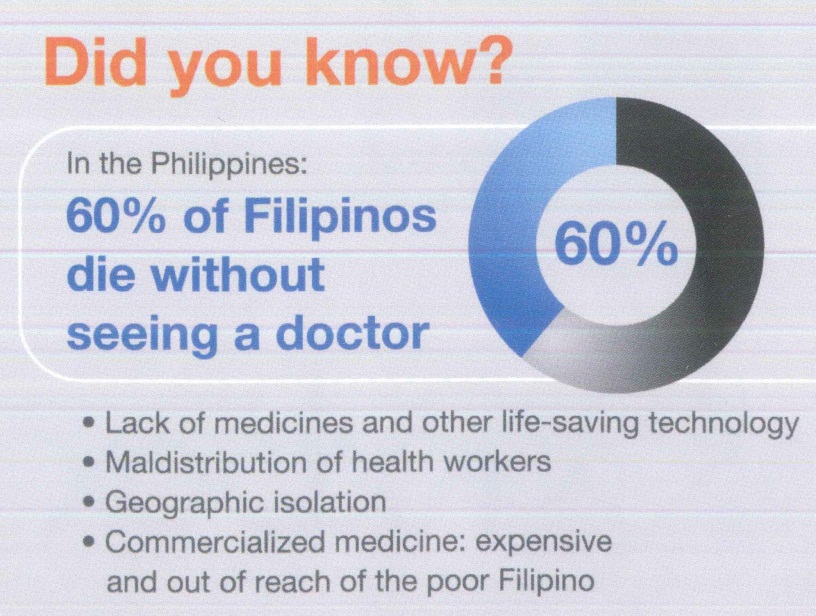 Lack of medicines and other life-saving technology.
Maldistribution of health workers.
Commercialized medicine: expensive and out of reach of the poor Filipino.
SOLUTION: Maximize established benefits of Information & Communications Technology in Health Care             
-maximizes use of health technology, enables communication and connects patients and health providers.