The Region 1 Health Research and Development Consortium (R1HRDC), once again proved its research capability by way of bagging awards, competing against other seventeen (17) consortia within the country during the 11th Philippine National Health Research System (PNHRS)  Week celebration held at the Philippine International Convention Center, Pasay City on August 24-25, 2017.
Under the PosterExhibit Contest,the "Efficacy of Mandibular Advancement Device in the Treatment of Obstructive Sleep Apnea Syndrome among Filipinos Seen in DOH Tertiary Hospital: A Pilot Study" with authored by Dr Ja P.Malvar and Dr Jose B. Orosa III of Mariano Marcos Memorial Hospital and Medical Center, and IMCI Mobile Application as an Alternative Tool for Health Care Providers" authored by Nicole Kaye Mondero, Carl Ernestine Bayot, Angelica Barba and Miriam Ferreria of Don Mariano Marcos Memorial State University, were awarded as 2nd place for professional and student categories, respectively.
Another remarkable grant is the Gold Award of R1HRDC Website for consistently updating the website, featuring the consortium's accomplishments, providing news and information for the public.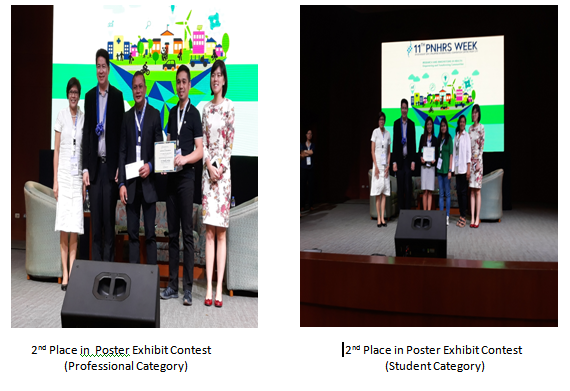 An extra pride for the consortium is Dr Ma. Lourdes K. Otayza, PNHRS Research Agenda Committee Chair and R1HRDC Chair, for being the resource speaker of "Investing in the Implementation of the National Unified Health Research Agenda (NUHRA) 2017-2022" during the plenary sessions. In addition, Ms Marcia Abadilla-Fellizar of MMMH&MC, author of the study, "Child Abuse Victims seen at MMMH&MC – Women and Child Protection Unit: An In-Dept Clinical Study" stood out for being one of the finalists in the Professional Oral Research Paper Presentation.
The success of the consortium was due to combined immeasurable team efforts of the R1HRDC personnel along with its stakeholders. The passion and dedication to research work surely help in improving the health outcome for the betterment of the community especially within the region.